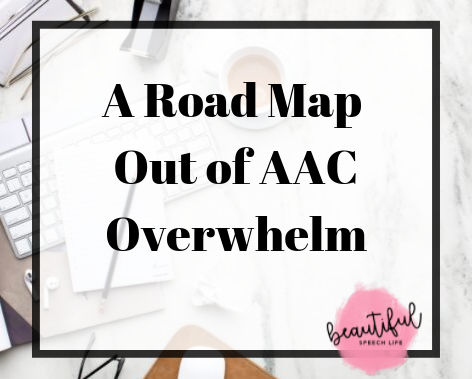 The other day someone asked me how I got into AAC.
I have to say, I didn't always love it like I do now. It was more like a love/hate relationship. Love the possibilities, hate the reality. Okay not hate, that's harsh.
Either way, AAC has always fascinated me.
But I can tell you, I was not "good" at it when I got started. I did NOT AAC like a Boss-it was more like AAC Like An Indentured Servant. 😂 I didn't know what I was doing (and I felt really bad about it).
However, I did know I wanted to help these kids and I needed to up my skill set.
So, I took every online AAC course I could find and started reading articles, blogs and research papers. When I went to ASHA conventions I would soak up all the AAC sessions.
I'd take the ideas to work and give them a try. Some things worked, a lot of things didn't.
One thing I noticed, again and again, was that I would learn so much in a course I'd get OVERWHELMED with information and not even know where to start.
Fast forward 11 years to 2018. Finally! What I was doing was working. Time to relax right? Haha not me.
I started thinking… "I learned all this good stuff, I can't just keep it to myself. I don't want to help just a few kids, I want to help all the kids".
That's when the idea for AAC Academy was born. I opened the doors in May 2018 and I was SCARED.
Scared no one would join,
scared people would say who does she think she is,
scared it wouldn't work.
But…
I squashed the doubts (actually just muffled the noise). Sometimes you have to take a leap of faith.
Now it's exactly one year later and hundreds of people have been through the door!
I'm just thrilled to share this AAC journey with them and would love to share it with you too!
I've used everything I've learned to give you an AAC Roadmap to confidence and success. And it's all in bite-sized, easy to implement pieces.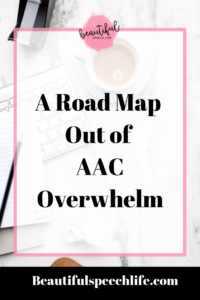 The joy that comes from helping a child expand her world through communication is priceless!
You and I are in the process of helping our kids shape their one wild and precious life with their communication.
Ready to find out more?
Let's do it! Click here for details. (Don't wait too long, doors are closing soon)