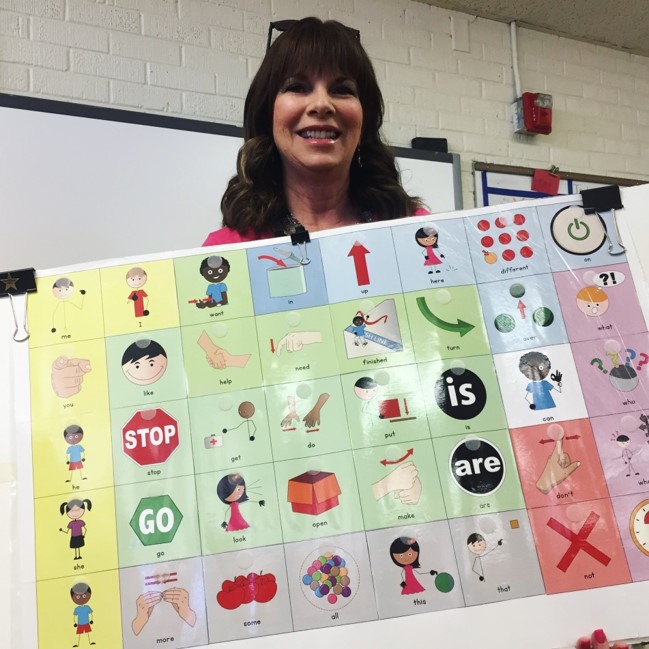 "I've had my eye on this since you first created it, and I finally went ahead and purchased. This year, I'm hoping I can channel my inner Anne and really work hard at teaching core vocabulary. Thank you for this awesome resource. I'm hoping I can use it to it's full potential!"

  ~Kristen
BIG Core Vocabulary Classroom Board, Low Tech AAC for Special Ed & Autism
Do you struggle with planning functional communication therapy?
Do you leave those sessions feeling frustrated and like it nothing is working?
Add structure, consistency and fun to your sessions by using Core Vocabulary. You'll be amazed at how you can do more with less!
"In my classroom work as a speech language pathologist SLP, I have seen so many students respond well to core vocabulary. This large board makes it
easier for our students with multiple disabilities to see and to hold the cards."
Big squares are easy for little hands to grasp and large enough to see clearly.
Made for classroom and/or speech room use
Uses DLM Core Vocabulary words which are evidence based.
Core Vocabulary:
It's not just for labeling. These words are used to comment, request and command.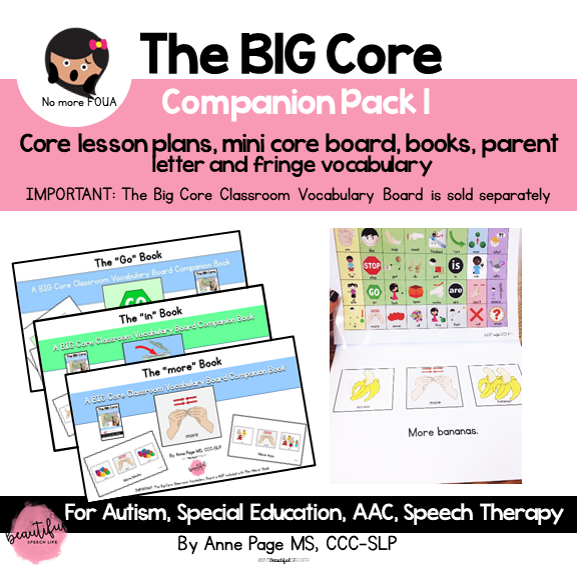 "LOVE your big core products! Keep them coming!! 🙂 And the instagram "how to" example videos! ~No more FOUA!"                                  ~ Teresa
The Big Core Vocabulary Companion Pack 1 for Special Education & Autism
If you are totally on board for using core vocabulary in the classroom but are still a little stuck on how to move forward with it, this pack is perfect or you!
This packet has enough teaching ideas to help you plan and implement at least ten sessions of modeling and teaching the core words "go" "more" and "in".
It also includes three books to leave in the classroom for use during reading time for more classroom implementation.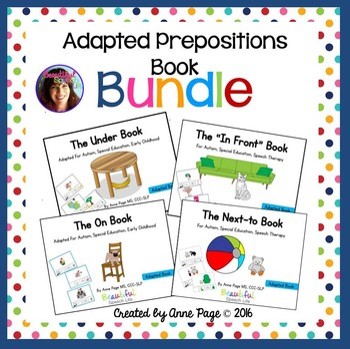 " One of the best bundles I've ever purchased on TPT! These books are very effective in helping my students master these concepts!"

Adapted Prepositions Book Bundle for Special Education, Autism & Speech
Adapted Interactive Prepositions books for learning spatial concepts, positional concepts for preschool, speech therapy groups, students with autism, non verbal students and special education learners.
This set includes:
✓The "Under" Book
✓The "Next to" Book
✓The "In" Book
✓The "On" Book
Spatial concepts can be tricky but they are so important to help our students learn to follow directions and build functional vocabulary. I find focusing on one concept intensely with many repetitions and in different environments really helps. Research backs this.
Presented on a white background to avoid confusion and distraction, these simple pictures encourage vocabulary development. The book provides opportunities for multiple repetitions. A visual sentence strip at the bottom of each page allows students to follow along during group work.
Boom Cards
My students absolutely love boom cards and the cards add such a fun element to learning and practicing communication skills.
I've created my own boom cards for kids with complex communication needs.
Using boom cards with kids has helped create a real connection with joint engagement, laughs, smiles, requests, exploration, trial and error and genuine enjoyment.
There are even holiday appropriate cards to help your kids feel included, not matter the time of the year.
If you would like to try boom cards with your kids. Click on the boom card image and check out my store.