You stepped out of grad school with big SLP dreams – but now you're paralyzed by FOUA (Fear of Using AAC).
Why is it we feel so confident when it comes to almost all of our amazing scope of practice, yet when it comes to serving kids with complex communication needs, we feel our SLP self-confidence slowly slipping away?
You want to help the kids who have AAC devices (or desperately need AAC devices), but you just don't have the experience, or the knowledge base, or the confidence-never mind the time it would take to get caught up on the latest EBPs for AAC intervention. So you tell yourself you'll get to it later. Only later never comes, and those kids are out there waiting for you NOW!
I know just how you feel! When I started out in this field a decade ago, I had no idea what I was doing with AAC. But I knew that I desperately WANTED to know.
Now, I can see you struggling too.  We all feel bad for the kids because we want the very best for them. That's when I knew I had to do something. Something had to change.
I've seen AAC build amazing communication bridges. If the people in a child's life are afraid to use AAC, I hate to think of how many children are really missing out. It's time to change that.
That's why I strongly felt the need to create AAC Academy™
Imagine feeling truly confident in your ability to bridge that communication gap. See yourself helping families connect and children become more successful in the classroom.
Imagine giving a student the gift of increased independence and expressive language. Now, instead of throwing a tantrum when he wants his favorite toy, he'll be able to use AAC to "say" "I want my toy". You'll be giving him the ability to clearly express "I like" or "I don't like". You'll opening a whole new world for him.
It's time to AAC Like a Boss.
My academy-stye group AAC "coaching" program will build your SLP skills, increase your confidence, and allow you to help ALL of your students strengthen their communication skills.
AAC Academy™ Questions:
How do I start?
With AAC Academy you'll confidently jump in
What core words do I start with?
You can feel on top of your game with a complete plan and the support you need
How long do I teach each core word before I move on?
Understand the theory and research behind modeling language for your students
How do I model and teach core vocabulary?
See video modules with specific easy to implement example
How do I deal with multiple different devices in a classroom?
You'll gain knowledge to make group therapy work for all devices
What if my student just wants to push buttons?
Learn strategies and techniques that allow time for exploration and time to "work"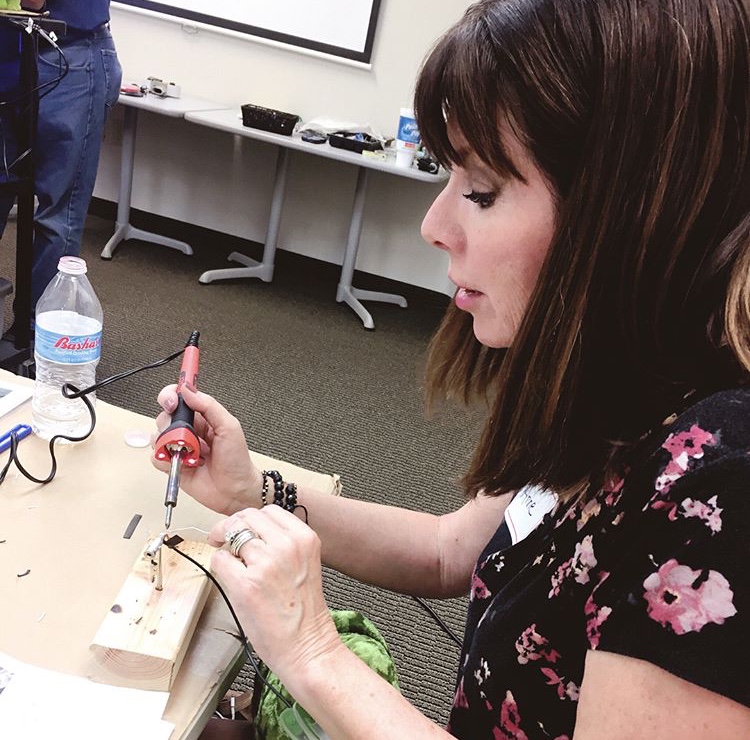 I know AAC can be hard.  There are different devices and systems and people are scared to use them.  Where do you even start?
I've been there and made all the mistakes.  But now that I've worked with many students who needed AAC for the past 10 years, I want you to learn from my experience and mistakes.  Let's shorten up your learning curve. 
Benefits:
Confidence-build knowledge of AAC
You'll have support, no more going it alone
Help kids find their voice and truly make a difference
Expand your skill base, overcome technology fears
Save time-videos and modules are bite-sized (no huge time commitment)
Connect with to like-minded SLPs/educators in the Facebook group
Features:
A monthly module of learning materials covering what you need to know about AAC in a school setting.
Easily accessed online platform, available 24/7, with downloadable worksheets and videos.
Two to three downloadable videos released each month. Videos deliver specific instructions and ideas for providing language therapy within the area of AAC. Subjects include: modeling, teaching concepts, how to train staff, how to support parents, AAC in the IEP. and more.
24/7 access to private Facebook group
Office hours every Tuesday within the Facebook group
How is AAC Academy™ different ?
AAC Academy™ is well-organized, systematic collection of hands on ideas and activities you can use with your students the very next day.
When I was trying to learn as much as I could about AAC, I got really frustrated with digging through so much information. I took every AAC course I could get my hands on; but they weren't really organized in a way that worked for me, and it was way too time consuming.
AAC Academy™ gives bite-sized bits of information presented in video, backed by research, with a few ideas that are immediately actionable, and with a suggested materials list/lesson plan.
You won't feel so alone in this journey. You'll have someone to bounce ideas off, ask questions and share little victories. You'll connect with like-minded SLPs and educators.
As an AAC Academy™ member, you'll receive two to three videos each month. Along with the videos you'll get a monthly module that includes  pdf action plans and materials list you'll need to implement the strategies demonstrated immediately
Plus you'll become member of the AAC Academy™ private facebook community. I'll be active in the facebook group so I'm helping you build your knowledge. The size of the group will be limited so no one gets lost in the crowd. You can chat with other like-minded members and have access to Office Hours every Tuesday night, when I will personally answer questions.
AAC Academy™ is super structured. I'll take you step by step on this AAC journey, so that you're moving day by day towards confidence and mastery.  I'll help you master the AAC basics  so you can conquer your FOUA forever and fall back in love with your profession.
I know how overwhelming all the tech stuff  can be. But I also know that it all boils down to teaching language. Even though it's AAC, it's still expressive and receptive language. Just looks and sounds a little different.
We're going to be focusing on the strategies and resources you need for your students. No digging through theory, no overwhelm, no intense FOUA. I promise. We'll focus on the quick and easy actions you can take right now to build your confidence and help your students. 
No more staying awake at night worrying about the kids who need AAC and feeling like you don't know how to help them.
No more feeling like the Lone Ranger SLP. Join the AAC Academy and you'll feel confident you can change lives.
Sign up now for just $26 per month (your price will be locked in for as long as you stay) or pay upfront for the year for $240 and receive two months free.
About the instructor
Anne is an ASHA certified speech language pathologist with a Master of Science degree in Speech Language Pathology from Nova Southeastern University.  She is an award-winning blogger and international speaker.  She has worked as a speech therapist for a Title I school for the past 11 years.  She is currently the Assistive Technology Lead serving 19 schools in Phoenix. Anne is passionate about AAC. She loves the challenge of finding the best communication support system for her students.
No more FOUA, it's time to AAC Like a Boss! Join now. You'll be able to keep this monthly for as long as you stay (even when the price goes up). Membership is automatically renewed monthly.