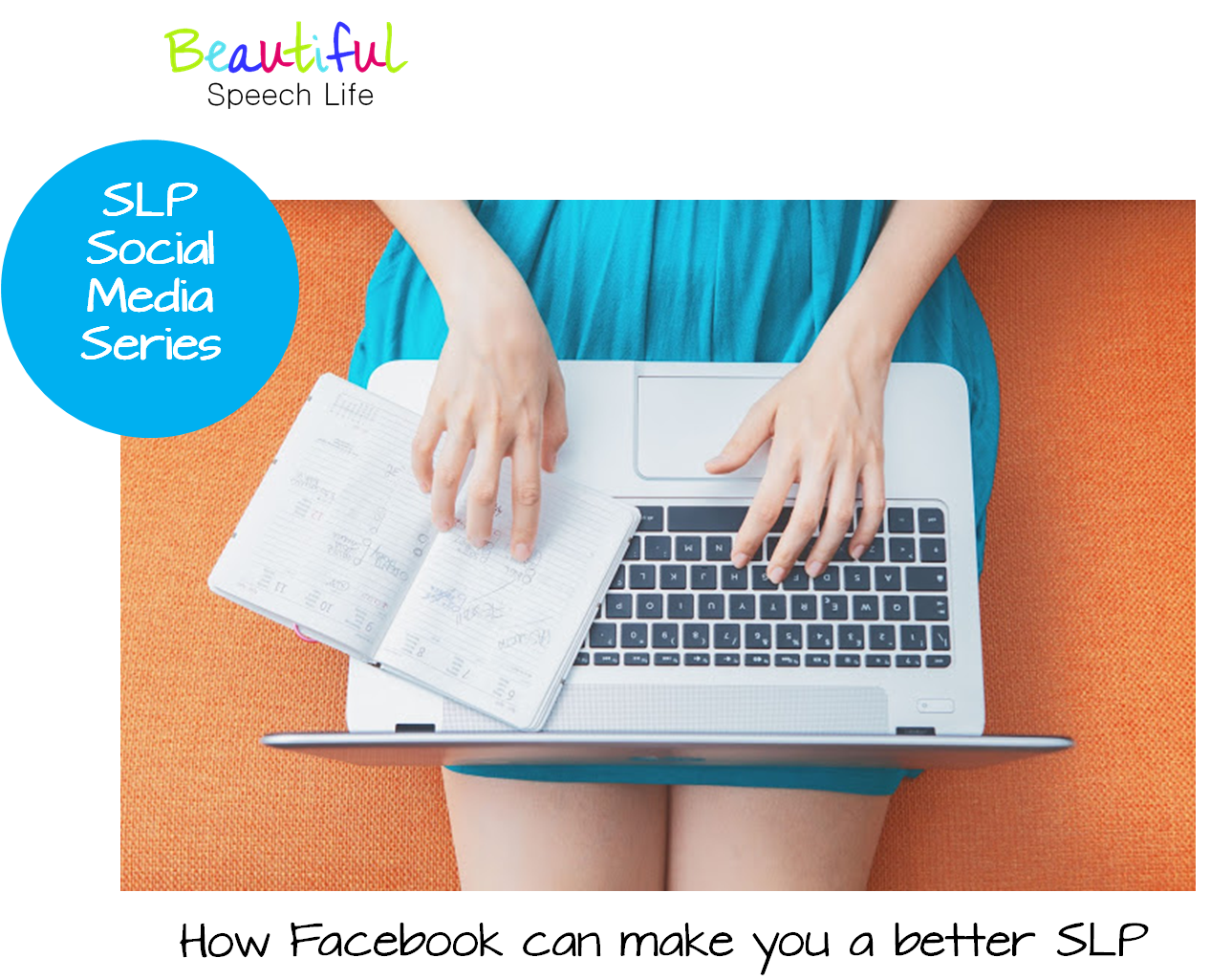 Facebook can be used for a lot more than looking up old high school friends or posting vacation pictures that make your friends envious. Here are a couple of other ways to use Facebook to your professional advantage, making you a better speech language pathologist (SLP) by helping you connect, consult your peers and have access to great therapy ideas.
Many SLPs have Facebook pages that are separate from their personal pages.  They're used to share interesting links to articles, tell therapy success stories and let followers know about therapy materials (including Teachers Pay Teachers items). I use mine as a way to connect.
Click here
to like and follow. As I mentioned in my last post, I am also a member of Speech Spotlight, our page is
here
.
SLP group membership Facebook pages are a great resource. Members connect and collaborate around a common theme. Most times you ask to join and then the administrator will confirm that you know someone in the group and that you are in fact an SLP, and then invite you to join.  Here are some of my favorites:
SLP Bloggers and SLPTPTSellers
The name is pretty self explanatory.  Currently at 165 members this page is a goldmine.  Here you can find out about linky-parties, blog hops, ask members to proofread new products for you, ask questions about TPT and learn about ASHA meet-ups. This very welcoming and supportive group has taught me a lot.
School-Based Speech and Language Pathologists
With almost 17,000 members, this a a great place to ask questions and keep your finger on the pulse of the school SLP. You can share job highs and lows, ask specific therapy questions, share concerns about caseload and workload. It is amazing to be able to connect with this many SLP's.
Speech Pathology Positivity
Looking for somewhere to share good news?  Speech Pathology Positivity is a newly formed group that is dedicated to inspiring and encouraging SLP's with happy stories and awesome speech pathology experiences.
And finally, here are three groups recommended by my SLP colleagues at Speech Spotlight:
SLP Student Help Desk
A group of experienced SLPs from a variety of settings offer a safe, non-judgemental place for undergrads, grads and CFY's to ask questions, share ideas and look for advice.
Speech and Language Pathologist's Role in Language and Literacy
Designed for SLP's to discuss all things literacy and language.  I just asked to join this group since I love language and literacy.
AAC for the SLP
This group is to discuss anything related to AAC and to share useful information. I just joined this group and am looking forward to some discussions.
I hope you try connecting with one of these groups. With so many talented SLPs using Facebook as a way to collaborate and build their tribe, a panel of experts is always just a few clicks away.
Did you like this post?  If you did please sign up to receive new blog posts, insider sale information, and stay connected. If there are other facebook groups that you like please mention them in the comments below.
Stayed tuned for the next post in this series about the impact of Instagram.