In this series I'm interviewing SLP boss women who work by day as a speech language pathologist, but at night (and on weekends) they are building a business. I'm talking about websites, blogs and therapy materials for their fellow SLPs and teachers. These are women I admire professionally and who inspire me. I write this series because I feel we can all make our practice as SLPs better and stronger by connecting with other SLPs.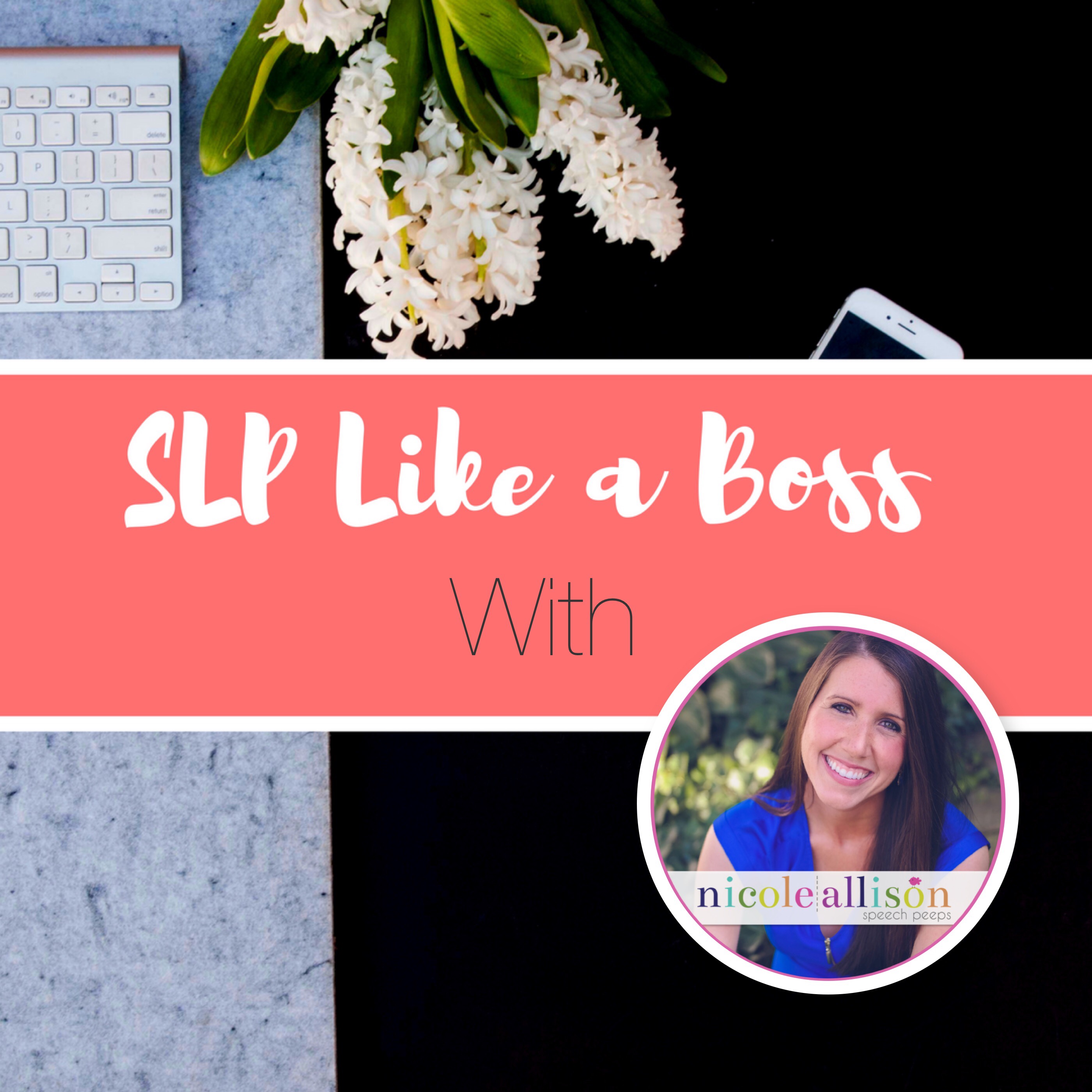 This summer I was so thrilled to meet Nicole Allison in Florida at the Teachers Pay Teachers Sellers Conference. Nicole has been listed by many other SLP bosses as truly inspirational and she lives up to her reputation. Not only are Nicole's therapy materials thoughtfully created, they are evidence based and many are linked to Core Curriculum standards. Her blog features  inspiring articles and helpful resources for the busy SLP. 
Let's jump right in and get to know her better.
Tell me about yourself in seven words: Blessed, mommy, clumsy, quiet, author, coffee-addict 
Where did you go to grad school?: I went to the University of Akron in Ohio. Go Zips! 
What are your top three SLP must haves (other than your own amazing materials)?: 
I would say every SLP needs to invest in a good old fashioned generic game (one that can be played with just about every student such as Candy Land, Trouble, or Jenga), a laminator (because we all know that if we CAN laminate something, it WILL get laminated). And last coffee-even better-a Keurig machine for your office 🙂
What do you love most about what you do?
Oh man, these are the hard questions, Anne! I lf I HAVE to narrow it down to one, I would say I absolutely LOVE that I can be a positive influence on my students. So many times, our reach extends beyond "artic, language, and grammar." We can truly make a difference and be a light in our students' lives. That student you thought you were getting nowhere with all of a sudden gives you a hug at the end of the year or my group of girls that told me when they grown up they want to be "speech teachers" just like me. Those moments melt my heart and keep me coming back for more. 
Tell me your advice for the newly minted SLP: My number one piece of advice is to befriend a few teachers. Being the only SLP at my district I often felt isolated. Being an introvert didn't help matters. Stretch yourself by eating lunch with teachers and truly listen to them. Often they know a lot about our students and can be a HUGE help to us! 
 Tell me about your blog: 
Lol where do I even start! I starting blogging back in 2012 because, like I said, I was the only SLP at my district and I NEEDED support. For REAL friends-I probably wouldn't have survived without the support I found through blogging! I want my blog to be a safe haven for other SLPs. A place they can come and truly feel rejuvenated about our profession and walk away with fresh ideas and resources. 
 Tell me about your TPT store: 
TPT  came about because of the encouragement of my husband. I started blogging with no intention of making or selling resources. I remember the summer I spent SEVERAL hours making my Common Core aligned goals. I created it because I needed it. My husband was the one who said, "Well, if you need it, maybe others do too." Since then, that's been the whole philosophy behind my TPT store. I create out of a need for my own students and hope others can benefit from as well! 
 What SLP-boss inspires you? Just one?! I have sooo many that I truly look up to! I saw Jenna's Speech Room News way back when and said "THAT's want I want to do!" but I would also say Lauren LaCour from Busy Bee Speech. This girl truly walks the walk when it comes to her relationship with Christ. It's a beautiful thing when you can find that special friend who pushes you in your own faith. 
What is your favorite children's book? 
I LOVE Fancy Nancy books so much so that I even own the Fancy Nancy doll lol!  They are the best for working on vocabulary while still having relatable stories. 
What about picture books? I really like the book (and so does my toddler) "A Ball for Daisy." It's perfect for working on story-telling and interpreting emotions. I always reach for books that you can incorporate multiple goals into! 
Isn't she great? Thanks Nicole for all you do for our profession.I'm so glad I got to meet you and am looking forward to connecting again soon. ( And I think we should all thank her husband for encouraging her to get started on TPT.)
Until next week,

P.S. I wrote a guest blog post for Nicole about stepping outside of our four walls as SLPs
click here
to read.