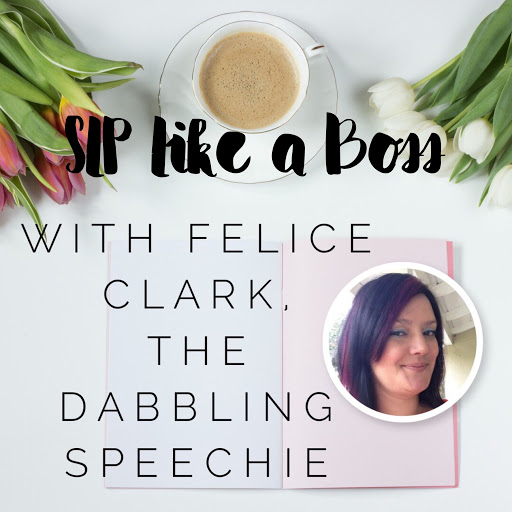 How do you SLP like a boss?  Someone who SLPs like a boss, is professional, compassionate, organized and inspirational. An SLP boss gets things done!
In this series I'm interviewing SLP boss women who work by day as speech language pathologists, but at night (and on weekends),  they are business builders.  I'm talking about running websites, writing blogs and creating therapy materials for their fellow SLPs and teachers. They not only serve as advocates for their clients (students); they are advocates for our profession. These are the strong, amazing women that I admire and who inspire others.
Today I am talking with SLP Boss-lady Felice Clark from the creative website The Dabbling Speechie.  You know when you meet someone for the first time and you like them right away? That's how I felt about Felice.  Friendly, funny and smart; she personifies SLP Like A Boss. I met her last year in Las Vegas at the Teachers Pay Teachers Sellers conference and saw her again briefly at the ASHA convention in Denver. Her TPT store features over 165 products. My current favorite is "Help! I Need Social Skills Pack". Felice is currently working as a school speech language pathologist. Let's dive in.
Tell me about yourself in seven words: creative, caffeinated, innovative, mommy, story teller, wife, and witty
Where did you go to grad school?: Sacramento State University
What are your top three SLP must haves?: This is tough! Youtube, dry erase plastic pouches, and my magnetic scenes
What do you love most about what you do?: I love planning engaging therapy.  I feel like I hit a home run when one of my lessons really helped a student make progress toward one of their goals.
Tell me your advice for the newly minted SLP: Set healthy boundaries for yourself. It's okay to say "no" to something that you can't accomplish or finish in a timely manner.  It will help you with managing your caseload and ultimately keep your stress down.  When I over commit myself, I usually am more grumpy with my colleagues and speech students.  If you are taking work home more than 3 days a week, you either don't have an adequate workload or you aren't setting limits with your work life.
Tell me about your blog: My website is for busy SLP's that have limited time to plan and find resources for their students.  I find and/or create engaging therapy ideas for those SLP's that desire to keep a "sparkle" in their speech room.
Tell me about your TPT store:  My store has lots of goodies in it!  I have a wide variety of resources, but I would say my most popular resources are my social skills packs, grammar sets, no prep activities and my big time saver AAC starter kit for students who are non-verbal or limited verbal. For spring, you need to grab my Nature Walk FREE printable for some outside therapy fun!
What SLP-boss inspires you? That's hard, there are so many.  I always like Nicole Allison's items and the way she approaches therapy. I admire that she is methodical and the way she takes data. And Natalie Snyder is also very knowledgeable in this area.

What is your favorite children's book?  At the moment, one of my favorite books of all time is Cloudy With A Chance Of Meatballs.
What about picture books?  I love using books in therapy!  Some of my favorites for spring are In The Tall, Tall Grass, A Tiny Seed, The Gardener and The Hungry Little Caterpillar.
I really enjoyed catching up with Felice. There's always something magical about talking to other SLPs, it's like we're all a secret society of smart women. To learn more about Felice, check out her website
The Dabbling Speechie.
And in case you missed it, here is the article about
Kim Lewis
, another SLP Like a Boss.
Did you like this post? If you did sign up for my email list, so you never miss another post.
How do you SLP Like a Boss?
Hearts and hashtags,