Do you struggle with planning functional communication therapy?
Do you leave those sessions feeling frustrated and like it nothing is working?
I sure used to.  And then I discovered the power of Core Vocabulary.
You can add structure, consistency and fun to your sessions by using Core Vocabulary. You'll be amazed at how you can do more with less!
 It's not just for labeling. These words are used to comment, request and command.
Of course, you want students to learn many other words, these are fringe vocabulary. But by focusing on core words you are teaching them a vocabulary that is used most often throughout the day and that they can use throughout their daily lives from classroom to playground to cafeteria to home.
So what exactly is core vocabulary?
Core vocabulary is a small set of simple words, in any language, that are used frequently and across contexts (Cross, Baker, Klotz & Badman, 1997).  These words make up 75-80% of the words we use every day.
I love to use big core vocabulary boards with my students. You can choose your core words from many sources and create your own board using symbols.
I just created this core vocabulary board. I spent months tweaking the size, the positioning of the symbols and using it with my students. Here's what I love about it:
Big squares are easy for little hands to grasp and large enough to see clearly.
Made for classroom and/or speech room use
Uses DLM Core Vocabulary words which are evidence based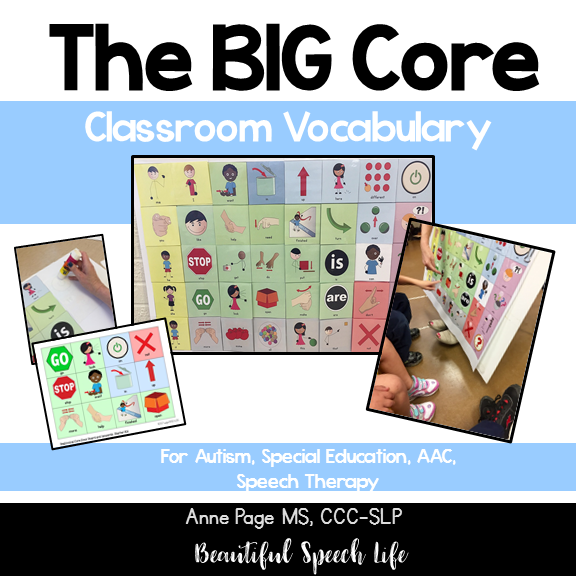 It's available in my Teachers Pay Teachers store now.  Included with the board are two different choices of backgrounds, one vibrant and one more subdued. There is also a smaller poster to put on the classroom door to help with carryover. And smaller squares to use for lanyards to encourage use of the core vocabulary words throughout the day.
If you're sold on Core Vocabulary but wondering how to get started, I also included enough ideas to get you through a few sessions incorporating wind-up toys and movement.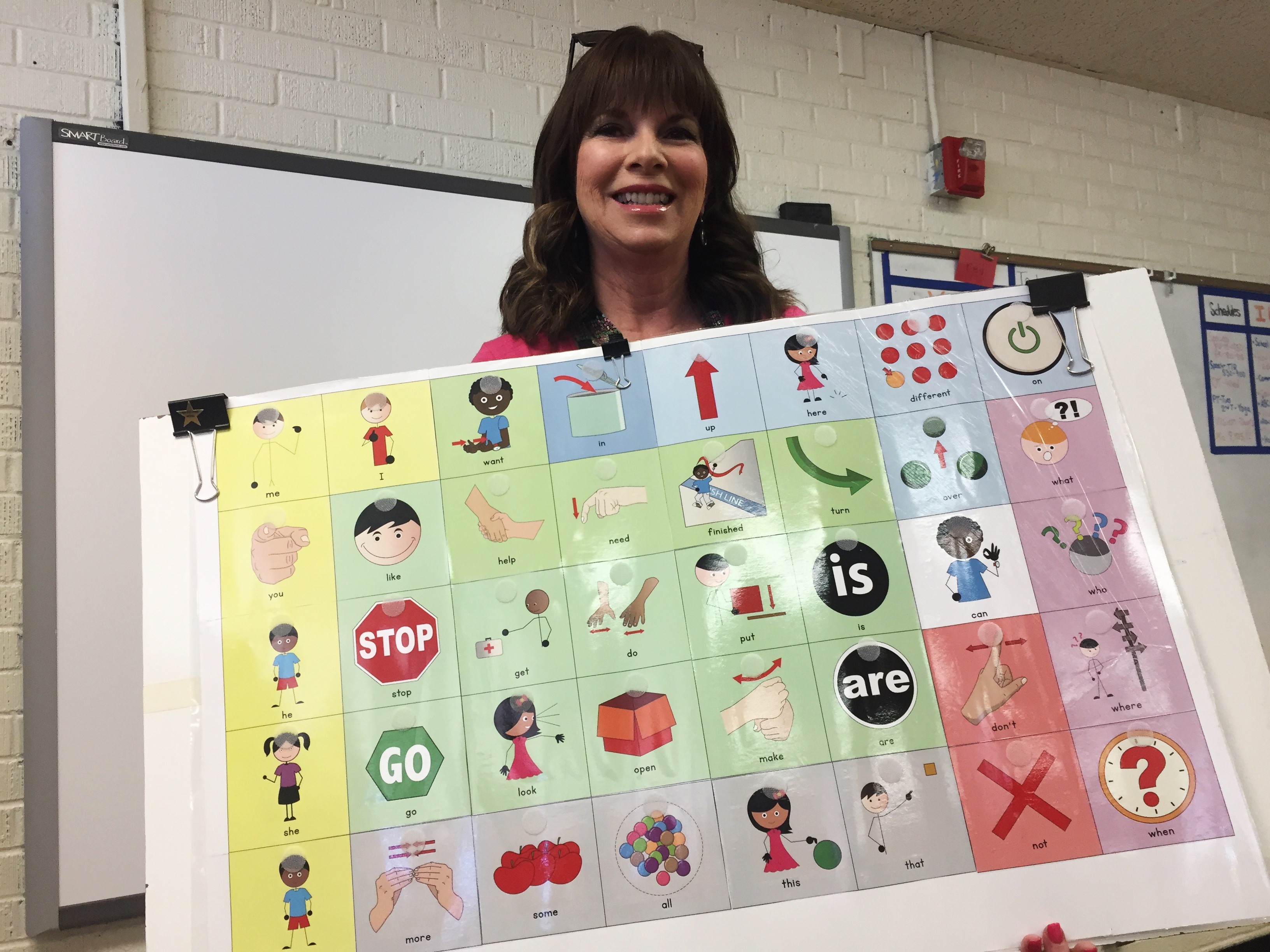 Click on this link to see the Big Core Vocabulary Board.
Psssssst…April 7th only….This is at an Introductory Price of just $5.00 (I know are you kidding me? That's  a whole lotta resource, that will last a lifetime) 
I hope this gives you a good start. I don't teach core vocabulary for the whole session, but consistently work it in for 10 to 15 minutes of each 30 minute session.
Keep coming back, because I'll be sharing more ideas on how to use core vocabulary to make communication gains. Also join me on Instagram, where I share lots of ideas in my Instastories.
I'd love to hear from you once you've tried this. How did it work for you? What new ideas did it generate?
Hugs and high-fives,