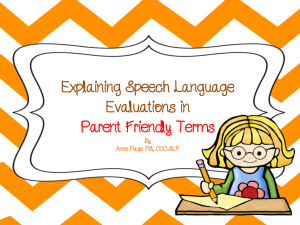 So you've completed your testing and written your report. Now it's time to present the results to the student's parents. This is delicate work; use empathy and try to put yourself in the parents' place. Know your "audience". This is not a time to dazzle them with your brilliance or to use all of the vocabulary that you learned in grad school.
Remember, we have our own lexicon and so does the education world. This can be a little overwhelming. A few years ago, I was in a meeting where a well-meaning special education resource teacher was telling a parent that her son was behind in his ability to decode and comprehend grade level informational text. She talked for a while and then asked the parent if she had any questions. The parent said, "you lost me 10 minutes ago, I have a 6th grade education and I have no idea what you are talking about." That's something I won't ever forget.
  Parent friendly language is really important. We want to invite understanding and collaboration. When we are giving standard scores, percentiles, and standard deviations below the mean; we need to interpret and not overwhelm with information. Here are a few tips that I have found helpful:
Start with the child's strengths, every parent wants to hear some good things about their child
Use pauses, take breaths. Try not to be nervous and rush through the information.
Encourage questions. If parents have a glazed look or are just nodding in agreement with everything-not a good sign.
Use visuals (don't assume understanding of the Bell Curve) I created a simple visual that you can use to give an overall picture of what the child's communication strengths and areas for improvement are.  The score range varies slightly by test but generally the average range is from 85-115. Mark scores right on the sheet or put in a plastic document cover and mark with dry-erase marker. This is not meant to replace the Bell Curve, it's just an additional way to make results clear for parents.  Click Here for your free download.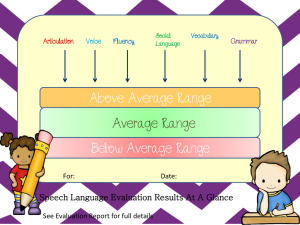 Provide examples
Explain how this will affect the child in his classes
Hopefully you had a chance to explain what areas you were testing at the pre-evaluation meeting. Now would be the time to briefly explain again the different areas of speech and language. I use this  chart available in my Teachers Pay Teachers Store.
Let them know that you are available to answer any additional questions after they've had the opportunity to read the complete evaluation
If it looks like the child will qualify for services, give the parent an idea of what this will look like
Ask the parent what area they would like to see their child improve in first
Parents are such an important part of the team approach,  the more they understand; the stronger your team will be!