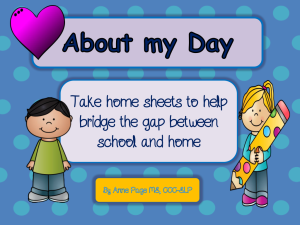 Imagine that you are a parent. Your little cutie pie comes home after being at school (and away from you) for seven hours. You want to know all about their day!
"How was your day sweetie?"
"Good."
"What did you do?"
"Play."
"What else?"
"That's all."
This is a normal conversation even for a typically developing child. But with prompting, he should be able to tell you the basic events of his day. On the other hand, a child with an expressive language impairment may lack the organizational structure and vocabulary to be able to recall the events of their day. The ability to remember and tell about the people, places and things he encountered is a foundational skill for the next step of sequencing. Recognizing the order of events is a vital skill for organizing thoughts.
After having many conversations with parents at IEP meetings or in the clinic waiting room, I wanted to make something tangible to help bridge this communication gap. My little client Suzy (not her real name), is six years old and couldn't really tell her mom much about her day. Or if she did, she would repeat the same events every day saying things like "I went for recess" or "I played with my friends". I put a worksheet together for her, talked to Suzy about it, and gave Suzy's mom some ideas on how to give her some choices and prompts when Suzy says "I don't know". This was her homework for the week until I would see her again. We are now on our fifth week of homework. Suzy's mom says Suzy requests it every night. Yay! We keep changing the three things and Suzy is learning some organizational thought processes and giving more details. The other great thing is that it is a multi-sensory experience with the colorful visuals (Suzy loves the colors and the kid graphics), she is touching the paper, she is writing, she is talking to her mom about it and she is talking to me about it. And she is practicing the skill in multiple environments for much more effective carryover.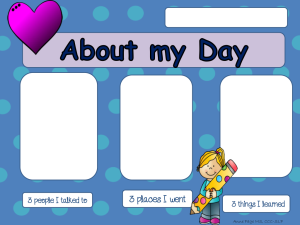 The "About My Day" worksheets are available as a FREE download from my Teachers Pay Teachers store. (Scroll down for the link or www.teacherspayteachers.com/Product/About-My-Day-Take-home-sheets-for-expressive-language-1432730 ). With colorful fun visuals and the "3 things" structure these worksheets are linked to Common Core standards and can also serve as writing prompts.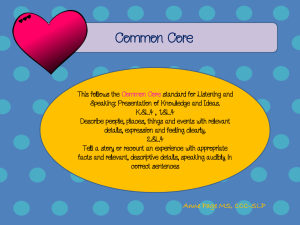 If a student is in a special education classroom, it may be appropriate for an adult to fill it in or use pictures. I use a color sheet as the cover page and staple six b/w copies behind it. Included are two versions (girl graphic, boy grapic) and two blank sheets to use as masters. (Make sure you set your printer to landscape setting). Or if you want to use it with your iPad, open it in Ibooks or the PDF reader app, then make a screen shot and open it in Skitch. Use your finger or a stylus to write with.
I hope you enjoy these!