Where did you learn about AAC? Hopefully, if you are a recent SLP graduate you took an AAC class as part of your master's degree program. But what if you graduated a while ago? Or what if you find yourself suddenly needing to know more? AAC Academy is a new way to learn more about AAC; it might be just what you need.
Of course, you want to help the kids who have AAC devices (or desperately need AAC devices), but you just don't have the experience, or the knowledge base, or the confidence-never mind the time it would take to get caught up on the latest EBPs for AAC intervention. So you tell yourself you'll get to it later. Only later never comes, and those kids are out there waiting for you NOW!
Why is it we feel so confident when it comes to almost all of our amazing scope of practice, yet when it comes to serving kids with complex communication needs, we feel our SLP self-confidence slowly slipping away?
I know just how you feel! When I started out in this field a decade ago, I had no idea what I was doing.  I had so many questions.
Now, I can see you struggling too.  We all feel bad for the kids because we want the very best for them.  That's when I knew I had to do something. Something had to change.
I've seen AAC build amazing communication bridges. If the people in a child's life are afraid to use AAC, I hate to think of how many children are really missing out. It's time to change that.
So I had to create AAC Academy.
Imagine feeling truly confident in your ability to bridge that communication gap. See yourself helping families connect and children become more successful in the classroom.
Imagine giving a student the gift of increased independence and expressive language. Now, instead of throwing a tantrum when he wants his favorite toy, he'll be able to use AAC to "say" "I want my toy". You'll be giving him the ability to clearly express "I like" or "I don't like". You'll opening a whole new world for him.
It's time to AAC Like a Boss.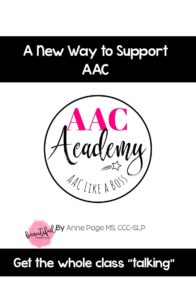 My academy-stye group AAC "coaching" program will build your SLP skills, increase your confidence, and allow you to help ALL of your students strengthen their communication skills.
AAC Academy will answer your AAC questions:
             With AAC Academy you'll confidently jump in
What core words do I start with?
 You can feel on top of your game with a complete plan and the support you need
How long do I teach each core word before I move on?
Understand the theory and research behind modeling language for your students
How do I model and teach core vocabulary?
See video modules with specific easy to implement example
How do I deal with multiple different devices in a classroom?
You'll gain knowledge to make group therapy work for all devices
What if my student just wants to push buttons?
Learn strategies and techniques that allow time for exploration and time to "work"
Benefits:
Confidence-build knowledge of AAC

You'll have support, no more going it alone

Help kids find their voice and truly make a difference

Expand your skill base, overcome technology fears

Save time-videos and modules are bite-sized (no huge time commitment)

Connect with like-minded SLPs/educators in the Facebook group
To join the AAC Academy click here.
Note: Early Bird pricing is in effect until May 15, 2018. This is a great chance for you to lock-in at a low price.