What's SLP Like a Boss? An SLP boss is professional, compassionate, organized and Inspirational with a capital "I". An SLP boss gets things done! In this series I'm interviewing SLP boss women who work by day as SLPs , but at night (and on weekends) they are business builders, advocates, huggers, tear-wipers, encouragers and creators. These are strong, amazing women that I admire and am happy to call Friend.
Today our SLP Boss Lady is my friend Sara Wu.  I met Sarah in Las Vegas last summer at the Teachers Pay Teachers (TPT) Seller's Conference. (I met so many great people there.) We also share the blog Speech Spotlight, along with seven other fabulous speech language pathologists.
Sarah is a powerhouse bilingual SLP. Not only is she bilingual (speaking fluent Spanish), but she has a Chinese last name (Wu), and is a dual citizen(she was born in Australia). Sarah is mother to two young boys and still finds the time to create bilingual therapy materials for her TPT store AND to blog weekly. I love her thought provoking, helpful and insightful blog posts. She writes "evergreen" content that you'll want to bookmark and share with your friends. I'll put a link to her blog and TPT store at the end of this post for you.
I write this series because I feel we can all make our practice as SLPs better and stronger by connecting with other SLPs.  It's also really interesting to see what other SLPs are using in therapy and what advice they have to share.
So let's dive in and see what we can learn about Sarah.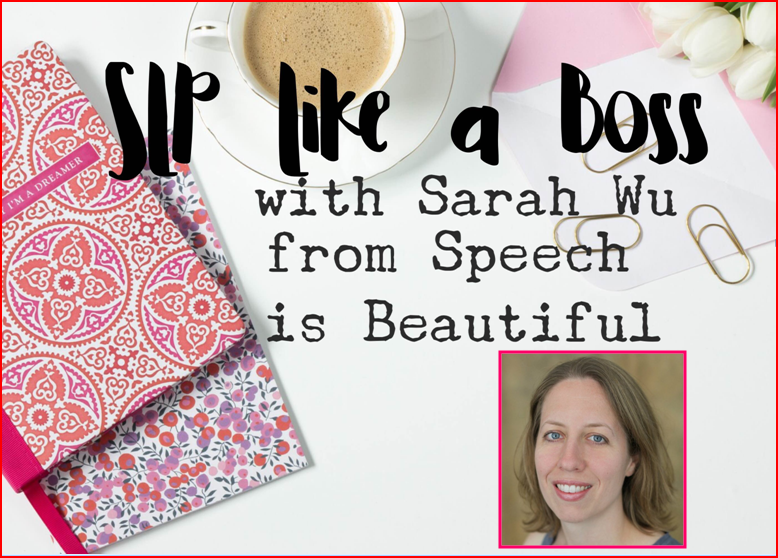 Tell me about yourself in seven words: Joyful, fun, silly, smart, mischievious, mother, and writer.
Where did you go to grad school?: Northwestern University.
What are your top three SLP must haves (other than your own amazing materials)?: My clipboard, my laptop, and big foam dice.
What do you love most about what you do?: Helping my students reach their potential.  I think the students I work with have so much potential that's hard to see.  So many of them speak Spanish only and they're learning English. I work with them exclusively in Spanish until they are ready to move on to English.
Tell me your advice for the newly minted SLP: It's important to take risks.  I don't think it's something women are encouraged to do.  Don't just take the safe path, not just the easiest or the closest.  Don't settle. Do what you have to do to go for it.  I've always made sure I feel one hundred percent about where I work. If you don't, it's worth it to take a leap.
Tell me about your blog: I like to make sure that it's useful and important to SLPs. I blog about being bi-lingual. I talk about topics instead of products. 
Tell me about your TPT store: I'm creating the Spanish products I can't find anywhere else.  Sometimes I don't care for the word choices of commercially produced items.  It's not just Spanish, I have English products too, and bilingual. They're so much fun to create.
What SLP-boss inspires you? Natalie Snyders.  Her products are very evidence based and well researched. And she has the gift of connecting other SLPs through facebook.  My hat is off to her.
What is your favorite children's book? Charlotte's Web
What about picture books? La Oruga May Hambrienta (The Very Hungry Caterpillar)
So now you know a little more about one of our fellow SLPeeps and SLP Like a Boss Sara Wu. I hope you feel inspired and connected, I know I do.
Who inspires you to SLP Like a Boss? Would you like to suggest an SLP for me to interview? Let me know in the comments OR email me at beautifulspeechlife@gmail.com.
Until next time,
Anne